Another week of Training Tuesday!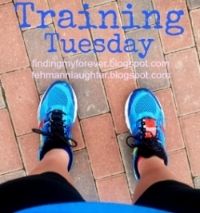 I realized to successfully make my goal for Forever Fitness Challenge, I'm going to have to put down how many miles I ran, plus the amount of cardio I did..whoops, sorry Abbey! :)
Tuesday March 19th - Monday March 25th
3.19 - Treadmill for 20 minutes because of waking up late...again. =
2.25 miles
3.20 - I've decided to go back to my own lifting routine so I did that today. Did 10 minutes on the elliptical = 1.10 miles (not towards my goal of running miles) and 20 minutes on the treadmill -
2.1 miles
3.21 - Power Pump class plus Treadmill (because it snowed...AGAIN) for 30 minutes =
3.05 miles
3.22 - Elliptical for 30 minutes plus lifting routine = 3.1 miles
3.23 - Rest day - I shot a wedding today though and was on my feet for a straight 13 hours!
3.24 - Rest day, went to Columbus for the day
3.25 - I started a run outside, and didn't even make it 5 minutes before I had to turn around because it was still freeeeezing outside! And the wind was actually blowing me over so I couldn't run straight. So I headed to the Y instead and ran on the treadmill for 30 minutes..blah! =
3.1 miles
Went back to the Y in the evening for a warmup before Power Pump and did uphill inclines for 25 minutes =
2.1 miles
Total = 12.6
miles
Highs of this week:
Moving back to my old lifting routine plus my regular Power Pump classes. I can already tell the difference!
Lows of the week:
Not being able to run outside! Sunshine...where you be?