Another week of Training Tuesday!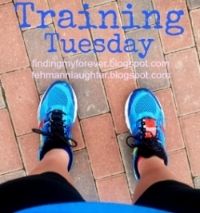 Tuesday March 12th - Monday March 18th
3.12 - Ran on the treadmill today for 4 miles plus some Nike Training Club ab workouts and some arm lifting
3.13 - Still tons of snow on the ground! And ice and me aren't friends, so 30 minutes on the stairmaster today and lifted on my own
3.14 - Well I woke up AN HOUR late, and was leaving for Des Moines with my parents, so I just ran to the Y and got in a quick 15 minute elliptical workout and some abs before I left!
3.15 - My Dad and I went for a 3.5 mile run through Drake University campus. The cool thing about running with my Dad is that I think I'm in okay shape, until I run with him (whose PR mile is 4:20) and he pushes me much harder than I push myself without even knowing it. So running with him is always a great workout.
(Not a 4:20 mile kind of workout

.

I would die, and then he would have to run his 4:20 mile to the ne

arest

hospital for someone to come save me)
3.16 - Rest day
3.17 - Another run
outside
! 4 miles today. Although I realized that just because it's been sunny and decent out, there's still ice on the trails. I'm still so sick and running in the chilly weather makes me have cough attacks that last for a really long time, and that's not my jam! So hopefully this week will bring much nicer weather!
3.18 - Combined treadmill run of 45 minutes plus Power Pump. Today's class was roughhhh. I feel like I'm saying that every week and I love it. When I wake up in the morning I'm definitely feeling it, and the only way to make it feel better is to get out and run! So I love that part too! It was an entire muscle group day so we rotated between muscle groups for entire songs.
Highs of this week:
Getting to run with my Dad, it's something we share, so I always look forward to doing some exploring with him in new places.
Lows of the week:
STILL being sick, and feeling like I'm hacking up a lung while I'm running.
Some running this weeke

nd