Another week of Training Tuesday!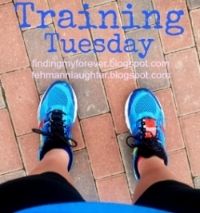 Tuesday March 5th - Monday March 11th
3.5 - I was still back at my parents house, who have an elliptical. So I caught up on HIMYM while doing the elliptical for 40 minutes.
3.6 - 3.35 mile run outside
3.7 - 20 minute stairmaster workout, 15 minute elliptical workout, plus Power Pump class - which was PYRAMIDS! Me and pyramids aren't friends. It consisted of two moves and a full pyramid of both of them, and then moving onto two different moves (i.e. 10 squats, 10 dead lifts, 12 squats, 12 dead lifts, 15 squats, 15 dead lifts, 12 squats, 12 dead lifts, 10 squats, 10 dead lifts) and then moving onto the same routine with two different moves for our full hour class. Needless to say Friday was a sore sore day!
3.8 - Was going to go to cycling and a core class, but my car decided not to start! So I did a 20 minute treadmill routine plus 10 minutes of cycling on my own.
3.9 & 3.10 - I had every intention of running 4 miles either Saturday or Sunday. But I had a weekend of almost zero sleep and being sick. Plus, a blizzard decided to happen. So I ended up doing some Nike Training Club workouts. Which are actually pretty difficult. It's such a good way to break a sweat if you can't get out of your house!
3.11 - 40 minutes on the elliptical and Power Pump class. It was a Bosu Ball class, which I love/really fricking hate all at the same time. I'm hurting today big time!
Highs of this week:
I got to do a quick run outside on one of those teasing you with Spring kind of days!
Lows of the week:
That teasing you with Spring kind of day was followed by a giant snowstorm, so there was no more outside running. AND I'm sick, so that's really cool! Except that it's not.
Hopefully this week brings less sickness and more nice days to run outside! Annnnddd...I saw this the other day and thought of all you ladies.
Kate
, I wanted to comment on your blog with it but I'm cool and couldn't figure out how to post a picture comment, so really it's for you and your love for Mr. Jason! But for real, you guys all rule, keep it up!