I'm finally remembering to link up to Training Tuesday with
Abbey
and
Tamara
. Since I didn't have a post planned for this...I'll just wing one now with what I did this week! Hopefully in the future I'll be able to do my plan and/or pits/peaks too!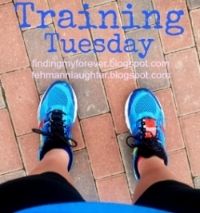 February 25th - March - 4th (Throwing in my Monday from last week since I didn't link up!)
2.25 - Mondays are Power Pump days - I did the elliptical for 20 minutes in the AM and when I get to the YMCA at night for class, I like to warm up with some cardio before class. It tends to be crazy busy at night, so I end up on whatever machine is open! Today I did 10 minutes on the Stairmaster and 10 minutes on the stationary bike. Power Pump consists of a hour long lifting class working every muscle group in different ways. (Best class ever!)
2.26 - I did an 20 minute AM workout on the stairmaster plus abs.
2.27 - I've been doing a lot of
this
treadmill plan lately and I love it! I burn around 440 calories in 32 minutes and it's a run I don't get bored with because it's always changing. I did abs today too.
2.28 - Another Power Pump day, so I did a PM workout on the stairmaster for 30 minutes. That thing is such a doozy and I love it! Then class for an hour.
3.1 - Friday I started on the stairmaster for 20 minutes, and for some reason it turned off (result of old YMCA equipment probably) and I was mad because I wanted to get through this awesome stairmaster rountine that I love. But I ended up just moving to the treadmill for an extra 10 minutes, plus abs.
3.2 - Rest day this week
3.3 - Another rest day this week...oops
3.4 - I was in my hometown this weekend through Monday, and it's much easier to run outside in a smaller town than in Lincoln where I end up running through some sketch neighborhoods half the time. So I did a 3.5 mile run here through the park. Map My Run is my fave for this for sure. I love how it tells me my pace and tells me when I need to keep up or what my splits are.
There you have it! I hope in the coming weeks I can keep up with this. If you want to link up, grab a button and join in! These ladies are awesome at keeping you motivated!